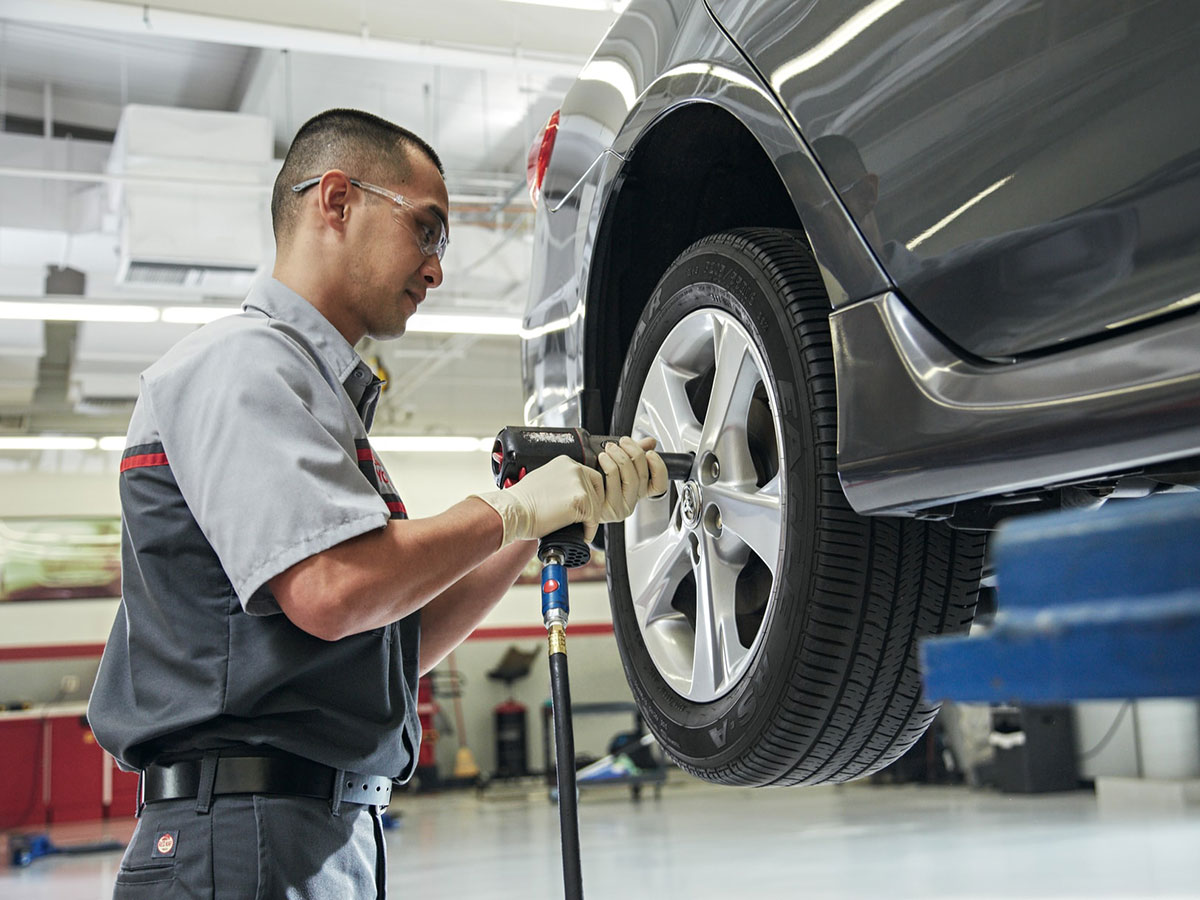 Tire rotation in Prescott, AZ
Often when tires do not wear evenly, you only see the damage after it is too late. This is the reason it is a good idea to get your tires rotated at regular intervals. A lot of people do this when they get their oil changed. Findlay Toyota of Prescott, AZ has been taking care of cars, and the tires they ride on, for a long time. We can help you get the most out of your tires by keeping them properly inflated, balanced and aligned. Keeping them rotated is a bit part of taking care of your tires.
Schedule Service
Service Specials
What happens to tires
Our certified technicians use genuine OEM parts in our state-of-the-art facility. We also offer a complimentary multi-point inspection with each service to help make sure everything is in good working order on your car. But no matter how good the alignment is, tires will wear differently depending on where they are on the vehicle. There is more weight on the front of most cars, where the engine is, so that causes more wear. Making turns also wears tires differently depending on which tires it is. This is why it is a good idea to get the tires rotated, to even out the wear over the life of the tire.
Why rotate you tires
There are some things you can do as well to help keep your tires in good shape. Check the air pressure regularly when the tires are not hot from driving. Keep an eye on the tread as well. If there is more wear on once side or spotty wear on the tire, that means there is something not right with your tires. Avoiding fast starts and stops also protects your tires. Our service department can help determine what is needed beyond tire rotation, whether that be balancing or alignment. Rotating your tires does not take long and is not expensive. Not rotating them will make them wear out faster, which will cost more in the long run.
Give us a call
Call Findlay Toyota in Prescott, AZ today to get tire service fo your car. We also serve Prescott Valley, Chino Valley, Paulden, and Dewey-Humboldt. We want to help you take care of your car, so we now have extended hours and Saturday hours. Online service scheduling is also now available. We have a courtesy transportation shuttle and rental cars available. Tire service does not take a long time, so you may want to wait for your car to be serviced. We have a comfortable waiting area with free WiFi and a Complimentary Beverage and Coffee Bar for your enjoyment.
Schedule Service